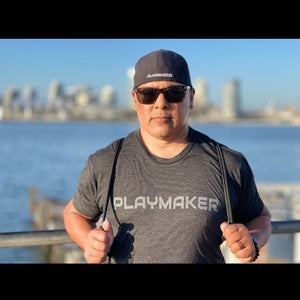 Why Does the Sports T-shirts Fabric Have Polyester?
Activewear greatly impacts an athlete's performance. And when choosing the right activewear, the choice can boil down to fabric material. Most athletes prefer to wear polyester blend fabric clothes because polyester blend fabric makes the perfect sports T-shirt. But why does a sports T-shirt require polyester? Why can't it be pure cotton or any other material? Let's figure it out.
Why do sports T-shirts have polyester?
Polyester is wrinkle-resistant; there is no need to iron them. Athletes have time constraints; they want a low-maintenance cloth, that's why a polyester blend sports t-shirt is their preferred choice. Polyester-made t-shirts are durable; therefore, if you need something to wear for performing physical activity, you can rely on polyester blend sports t-shirts.
It blends with other fabrics. The greatest benefit of polyester is that it can blend with other fabrics without losing its original properties. That's why manufacturers like to mix polyester with cotton to add a soft touch to sports T-shirts. Buy a playmaker t-shirt online and feel its softness. It has a blend of polyester, cotton, and rayon.
Resistive to Wear and Tear
Polyester is famous for its longevity factor because of its resistance to wear and tear. As athletes perform a wide range of motion, therefore they need reliable apparel. Whether you are running, stretching, or lifting heavy-weight, polyester can adapt to every type of movement.
There is no denying that athletes need a reliable cloth that can bear mud and sweat stains. Due to time-constraint, athletes are not good at caring for their clothes. Hence, they rely mostly on hassle-free caring apparel.
Polyester is a lightweight material, and athletes want something that doesn't feel too heavy. Playmaker Clothing Official understands the needs of every athlete; that's why they strive to bring out effective clothing solutions for them. Our playmaker black t-shirt, which is available online, is suitable for all athletes because of its lightweight feature. All t-shirts fabric has 50% polyester, 25% cotton, and 25% rayon. These t-shirts can handle wear and tear, allow flexible movement, and are easy to maintain. Playmaker Clothing's mission is to provide excellent quality products to all athletes who differentiate themselves from their competitors. We have a range of sports t-shirts and hat collections.
---